Welcome to this post: Just Neem Organic Skincare Review.
About:
"Traditionally, Neem Oil was used to create skin & hair care products that soothed dryness, repaired skin damage, removed bacteria, eliminated head & body lice, prevented baldness, reduced scaring, treated acne, and slowed the graying of hair. Whew, that's a lot of benefits, right!?! Neem oil may also be used to manage the symptoms of psoriasis, eczema, and other skin disorders.
Scientific studies have shown Neem to have properties that are:
Anti-viral: inhibits the growth of viruses
Anti-fungal: inhibits the growth of fungi
Anti-bacterial: destroys the growth of bacteria
Analgesic: provides topical pain relief
Anti-inflammatory: reduces signs of inflammation, swelling, or tenderness
Anti-microbial: suppresses the growth of microorganisms"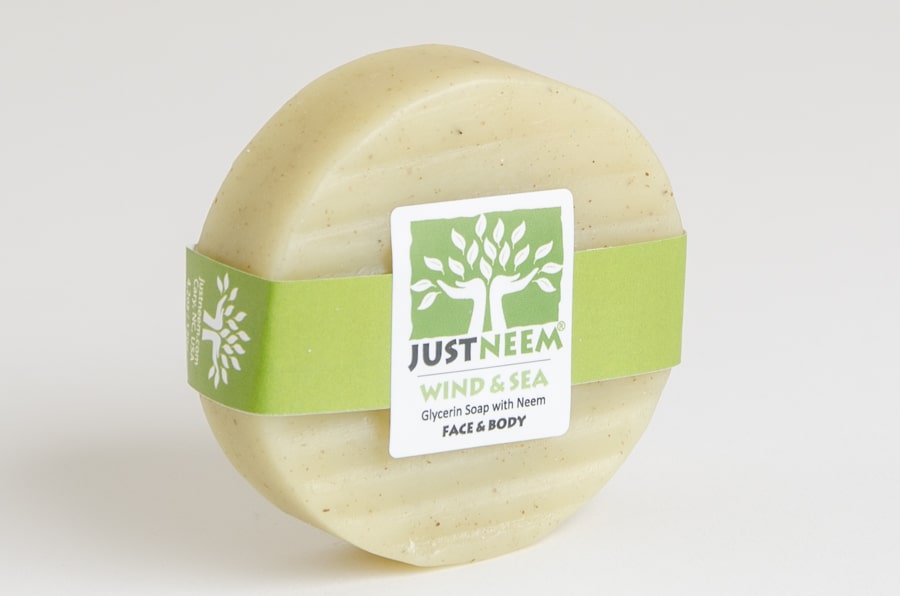 Wind & Sea Soap
Just Neem's Description:
"Our ultimate bestselling scent is now available in an organic Neem soap made with organic oils! Wind & Sea Neem soap is made with a blend of powerful organic oils, rich antioxidants, Aloe Vera, and therapeutic Neem leaves. Ingredients and a fascinating combination of sweet and clean smelling fragrance oils work together to soothe and heal skin and senses. Wind & Sea Neem soap is a perfect bar for face and body! No Sulfates, Parabens, or Phthalates. Gluten free.
Ingredients:
Certified Organic Palm and Coconut Oil, Purified Water, Glycerin, Sorbitol, Neem, Aloe Vera, Essential and Fragrance Oils."
My Description & Thoughts:
I got to try a bundle of Just Neem products a few weeks ago that were a bit different than this soap in that they did not contain organic ingredients–were just free of harsh parabens, sulfates, etc. You can read that review here.
Having organic palm and coconut oil is a better base than the soap I tried before that was classified at "natural." However, I still wish all of these ingredients were organic. It frustrates me a bit, frankly, that companies that are obviously ingredient conscious don't go the extra mile to make sure that every ingredient they use is organic, yet they market the word "organic" with some of their products.
All of that said, this soap smells very nice and pleasant. I have it by my kitchen sink right now in my "soap rotation." It is very tough on oil and grime on hands–almost too tough, as it dries out my hands if I lather up with too much of it. I would prefer it to be a bit more moisturizing.
I'd recommend this soap to someone looking for a slightly above average natural soap that provides a very thorough clean.
Just Neem's Description:
"Purify Your Skin With Our Neem Clay Mask – Best Seller!
Featured on The Dr. Oz Show in February and June!
Our best selling, natural Clay Mask with Neem promotes clear and healthy skin. Made with the purest French clay, African Neem leaves, and hydrating oils, this natural clay face mask draws out skin impurities, tightens pores, as it deeply cleanses your facial skin.
The invigorating combination of Eucalyptus and Rosemary essential oils stimulates the skin and increases blood circulation to the skin's surface, generating a youthful glow. Our Neem Clay Mask has also been used as a natural acne treatment. Read what others are saying!
Ingredients:
Aqua, Illite (French Clay), Helianthus Annus (Sunflower Oil), Azadirachta Indica (Neem), Cetearyl Alcohol & Ceteareth 20, Glycerin, Stearic Acid, Essential Oils, Phenoxyethanol & Caprylyl Glycol."
My Description & Thoughts:
Thought this mask feels nice on my skin, isn't messy compared to a lot of masks and is a unique product, I can't get past the fact that I wish these ingredients were all organic. This mask doesn't contain a single organic ingredient, which is just plain discouraging to me.
I so badly wish that Just Neem would make an all-organic version of this. I would be in line to get it. I believe the idea and plants used in this mask are a neat idea that I haven't seen before in a skin care product, they just are not delivered in an organic manner.
I'd recommend this to anyone wanting to take a step up from the mask they bought at the drug store, as it is free of a lot of harsh chemicals and does perform well as far as making skin feel clarified. I would not recommend this mask, though, to someone that is looking for an all organic mask.
*These complimentary products have been generously provided to me for the purpose of trying them in order to write a review on my experience.
Thanks for stopping by this post: Just Neem Organic Skincare Review.