Welcome to this post: 3 Ways to Support Your Menstrual Cycle.
3 Ways to Support Your Menstrual Cycle
For every human who gets their period, we can all commiserate for a second. But, let's not stay in that place! Let's continue to educate ourselves on all of the natural options out there. Moreover, there are many ways to support your cycle, with zero side effects.
In this post, I dive into ways to contain your period blood and supplements that can support you. Also, I go into some practices to implement that may help symptoms like mood swings and bloating.
Too, know that change and real healing take time. You likely need to supply your body with these tools for a while to notice gains. In addition, be patient with yourself. Also, be kind to yourself and keep persevering. I'm someone who has had debilitating menstrual cramps since age 12. I understand the frustrating feeling.
If you have extreme menstrual discomforts from PCOS or endometriosis, know there are natural ways to help. Surgery is not the only option. Also, there is no place for judgment here for those that have gone that route. Everyone is different. Perhaps, supplements are not the choice for everyone. But, through dietary changes and targeted supps, you can reduce your symptoms by a long shot. Additionally, I found this resource by Natural Doctor Aviva Romm very useful. Some of the supplements listed proved new to me in the context of menstrual pain.
Firstly, incorporate targeted herbs.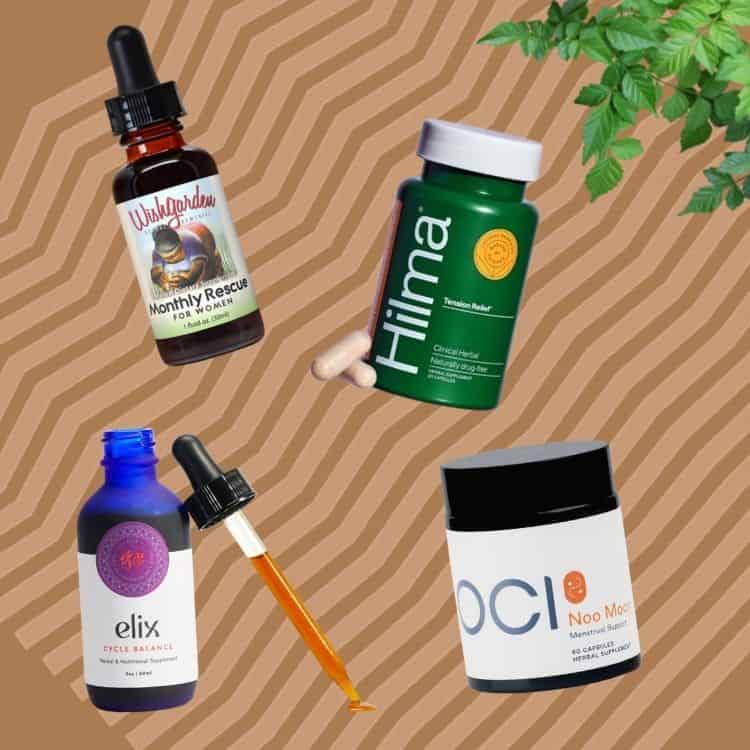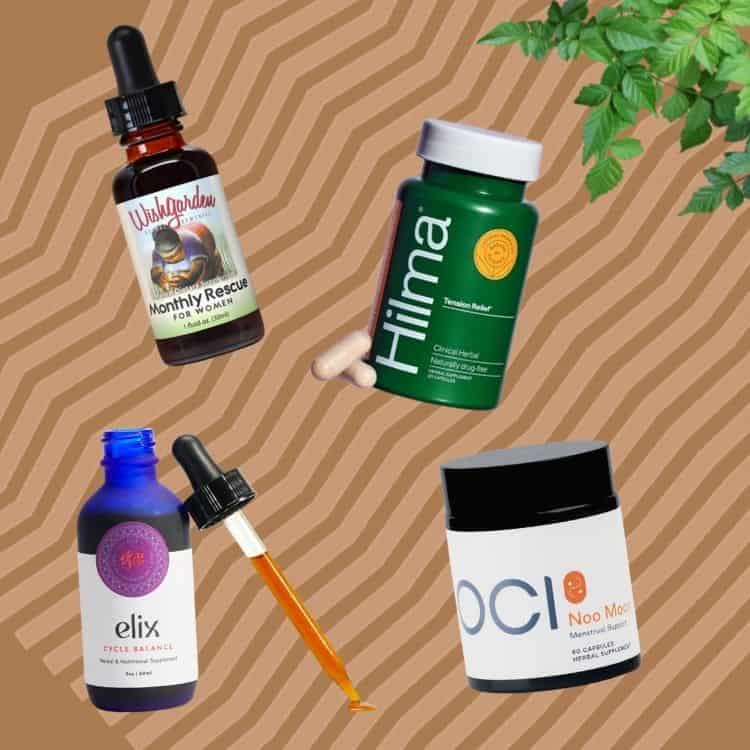 Incorporate Targeted Herbs
These are the products I look to:
Hilma's Tension Relief product serves as a natural pain relief option. Swap out your NSAID and try a heavy dose of this herbal blend. The recommended dosing from Hilma is different. However, I've used it in a way that noticeably helps mitigate the pain. A higher dosage proves more effective for me.
Wishgarden specializes in a wide range of herbal tinctures. Too, each of their formulas caters to a different aspect of health. I love the Monthly Rescue, Womb Kind, and Liver Strengthener formulations.
Elix's tincture comes personalized & based on Traditional Chinese Medicine. It's also unique because their tinctures are alcohol-free. Moreover, this herb blend helps to correct Qi flow through the body. Qi (pronounced chee) outlines a large portion of TCM. Ideally, the body's energetic flow is fluid & not stagnant. TCM focuses on addressing the stuck energy in your body. Additionally, taking care of stagnant energy leads you to your healthiest self.
Nooci's Noo Moon product is an herbal formula that helps support the menstrual cycle. Too, it provides relief from common premenstrual symptoms like moodiness and low energy.
You're reading: 3 Ways to Support Your Menstrual Cycle.
Elix made its way into my routine at a good time. I struggle with painful menstrual cramps. Some months are better than others. However, they pose an issue, nonetheless. I take Elix all month long to support my body. Though, they also recommend the option of taking them just before your menstrual cycle begins.
Additionally, know that Elix is an alcohol-free tincture. Thus, glycerin-based tinctures can prove well-tolerated by those sensitive to alcohol.
Rethink The Blood Catching Part
Things like tampons make our periods more convenient. But, what about what our biology suggests? The older I get, the more I wonder what the body really intends. Moreover, when the body is shedding uterine lining, does it make sense to obstruct it? Are there any negative effects of obstructing your flow? I don't hear many people talking about this.
Furthermore, I imagine there is potential for (even slight) bacterial build-up when the blood isn't exiting the body like it's meant to. It makes sense that letting it flow on your period would be more in line with biology.
Additionally, it's a personal decision what you do. Also, what feels good to you now might change in the future. Maybe, since you're working from home now, you are open to using something like period underwear instead of a tampon. Thus, there may be health benefits to using tampons and menstrual cups less. It's all one big continuum. I see conventional tampons as the worst option. Then, organic cotton tampons being a better option. Better than that comes menstrual cups. This reduces the risk of toxic shock syndrome.
Moreover, options like period underwear are an even better option that perhaps aligns better with our biology. So, secondly–consider period underwear.
You're reading: 3 Ways to Support Your Menstrual Cycle.
Consider Reusable Period Underwear
Period underwear is just like it sounds. It's essentially a super-chic, low-profile diaper. In other words, period panties offer a way to get added protection that's built into your undergarments,
Keep in mind, there are several popular period underwear brands that are made with toxic materials like PFAS. This negates a big reason to switch up your period routine, right? Brands like Saalt & Lilova (shop this link for $5 off) are making it easier for you to free bleed and look stylin' doing it. Another great option for reusable protection are these panty liners. They've got no toxic adhesive or plastic layers. Yet, they are very absorbent.
Menstrual Cups over Tampons
If wearing period underwear still feels like a stretch for you, consider a menstrual cup. Besides, most tampons are rife with chemicals, dyes & bleaches. Moreover, those are not ingredients you want inside your vaginal canal. With a menstrual cup, you can accommodate a heavy flow. Too, you're able to eliminate those toxins by using a silicone means of catching your blood.
Pixie Cup: XL – use Pixie Cup coupon code FEELMOREGOODER for 10% off
You're reading: 3 Ways to Support Your Menstrual Cycle.
Use Targeted Supplementation
You're reading: 3 Ways to Support Your Menstrual Cycle.
Thanks for stopping by this post: 3 Ways to Support Your Menstrual Cycle.