Welcome to this post: Tusol Wellness Review. Use Tusol Wellness coupon code FEELMOREGOODER for 20% off!
Tusol Wellness Review
About Tusol Wellness Co Founders, Ilana + Ingrid:
Ilana met Ingrid earlier that year in Malibu. Ingrid was creating powerful customized smoothies for private clientele. Each elixir had specific properties. Some boosted serotonin, the happiness neurotransmitter. While others provided the body with every amino acid it needs. This supports cognition and organ function.
You're reading: Tusol Wellness Review.
Ingrid had healed her own postpartum depression and Crohn's Disease. She did this through a clean lifestyle. Her approach revolved around these smoothies. She was on a mission to similarly optimize the lives of others. Ilana wanted to leave the high-end restaurant industry. This lifestyle prioritizes the fine dining experience over other factors. She wanted to focus instead on food as a means to longevity, wellness, and happiness.
TUSOL was born of their mutual fascination with the body. They marveled at the body's natural ability to quickly self-heal. With the right nutrition, you could regain your health. Literally, TUSOL means "Your Sun" in Spanish. The sun within you, the energy that fuels you. It also means "Two Souls." The bonds of a friendship turned into a commitment to raising the human spirit. This elevation happens through deep, personalized, practical nutrition and lifestyle.
The Tusol Wellness Philosophy:
TUSOL is rooted in the belief that happiness shines brightest from within. In it's purest form, happiness is untouchable. To live a life of passion, magic and love is the goal. Such happiness must be consistently nurtured and protected. A commitment to personal health will illuminate a path of elevated consciousness. Our goal is to inspire the cultivation of happiness. This is done from within by designing clean, healing products. Our formulas are created for targeted results. These smoothies make this journey both transformative and enjoyable.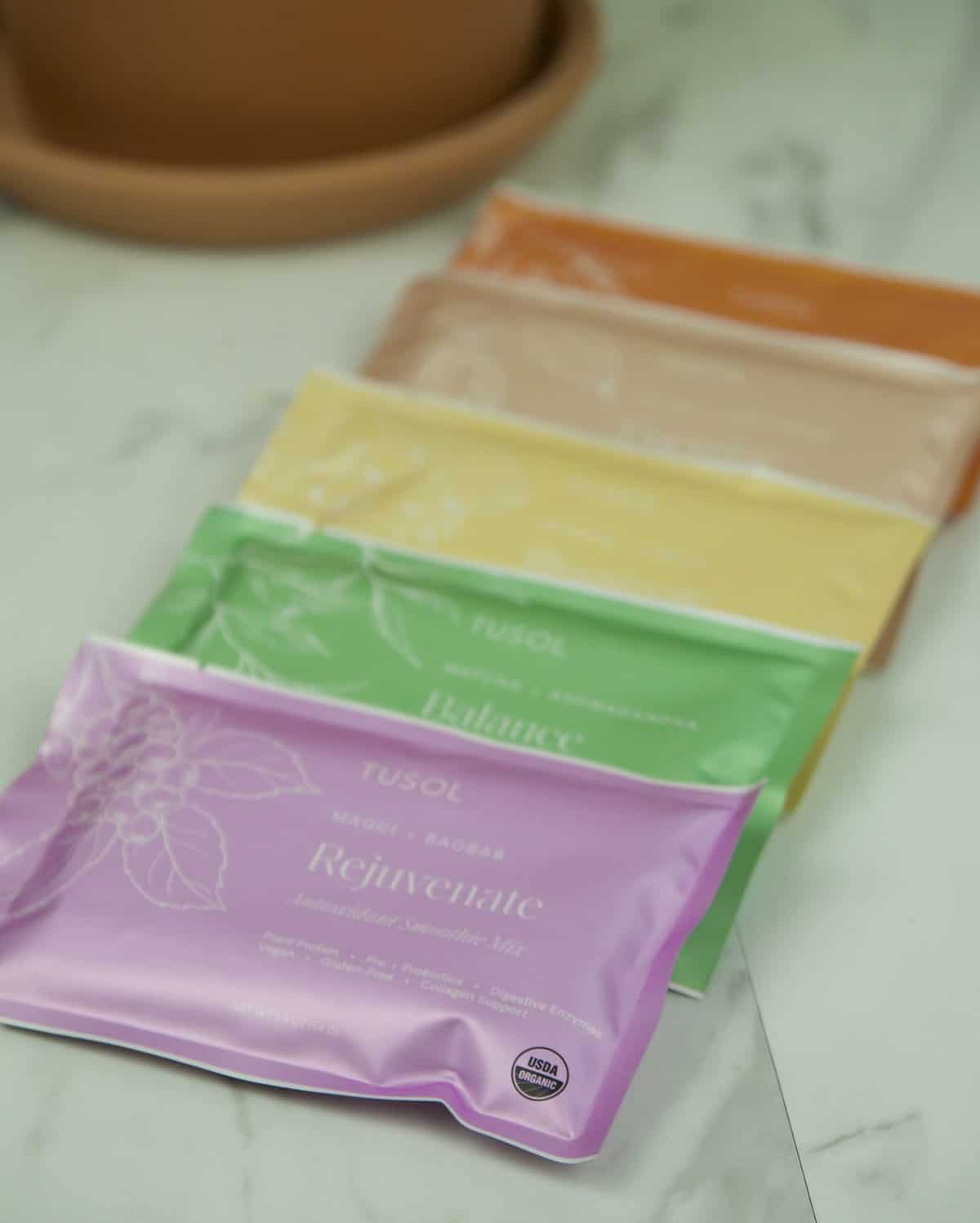 You're reading: Tusol Wellness Review.
We source from the earth to bring the highest quality ingredients to each of our products. We include ingredients that have been meticulously chosen for their ability to enhance performance and wellbeing. Such pledge to purity honors the complexity and beauty of our bodies. Tusol blends also facilitate deep personal connection. This allows individual happiness to radiate from within.
TUSOL means "Your Sun" in Spanish. The sun within you. The energy that fuels you. We are tenaciously committed to raising the human spirit through deep, personalized, practical nutrition. We embody a healthy lifestyle and will forever continue improving our brand and products to have maximum benefit.
Tusol Wellness Review: The Smoothie Blends
About:
Our BALANCE Smoothie helps reduce stress and promote gut health. It also stimulates detoxification. Pumpkin seeds, matcha and ashwagandha assist in balancing cortisol levels. Meanwhile, spirulina, wheatgrass and barley grass help support internal cleansing. Added prebiotics, probiotics and enzymes give this smoothie an extra boost to nourish the microbiome and eliminate bloat.
Flavor Profile: Green Tea Ice Cream
You're reading: Tusol Wellness Review + Coupon Code.
About:
Our ENERGIZE Smoothie is designed to boost the happy chemicals in your brain. This blend contains cacao, lion's mane and reishi. Also, this blend contains a cocktail of nutrients that have been studied to prevent depression, reduce fatigue and improve immunity. Together, these ingredients function to lift your mood and give you the energy you need to start. This energy will equip you to start and finish your day (Try this smoothie if you want other cacao smoothie ideas)
Flavor Profile: Chocolate Milkshake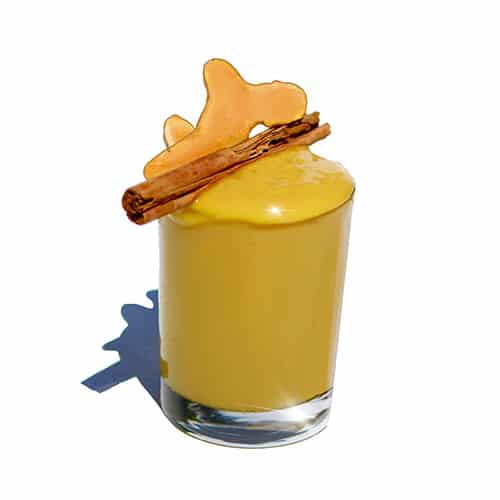 Our CALM Smoothie kicks inflammation to the curb with powerful herbs that target the cells and support immunity. We've added high-potency curcumin for serious results. Too, we added vitamin E in the form of tocotrienols. These control and activate agents that regulate inflammation. Alongside ginger and cinnamon, these botanicals work in synergy to support cellular function.
Flavor Profile: Golden Mylk Latte
You're reading: Tusol Wellness Review + Coupon Code.
Our REJUVENATE Smoothie is filled with antioxidant-rich botanicals. These combat oxidative stress and reduce the effects of aging. Botanicals in Tusol work alongside vitamin C to stimulate healthy collagen production. Both chaga and maca contain enzymes that increase each other's antioxidant potency. In addition, sesame seeds and tocotrienols together increase absorption of vitamin E. While, sesame seeds and maca work together to balance hormones. All of these components leave you feeling your lightest and brightest.
Flavor Profile: Berry Sorbet
You're reading: Tusol Wellness Review + Coupon Code!
Our ILLUMINATE Smoothie is specifically designed to protect acetylcholine. The neurotransmitter in the brain responsible for memory, learning, and emotional response. Lion's mane increases the production of acetylcholine. Chaga protects it from oxidative stress. Also, Maca inhibits AcHE. This is an enzyme that destroys acetylcholine. Together these ingredients help keep you sharp so you can remember where you put those keys.
Flavor Profile: Banana muffin
Tusol Wellness Review
I discovered Tusol Wellness through following Ingrid for a while on Instagram. I went down a bit of a rabbit whole discovering other inspiring people in the wellness community (like Joshua Holland). I'm grateful to have discovered them. I found myself absorbing so much positive, informative, helpful, inspiring, applicable information from them. All of this newfound into has been fueling my vigor for overall wellness. Shortly after, I discovered Ilana's page and was just inspired by how both of them walk the walk.
The Tusol Commitment to Quality
It doesn't take long after hopping onto the Tusol Wellness Website to notice the quality of the superfoods & antioxidants in Tusol's Smoothie blends. For me, ingredients are paramount. Furthermore, I know that they are the key to detoxing and staying vital in regards to hormone function, energy levels, etc.
How I Use Tusol Smoothie Packets
I don't necessarily have a favorite blend of the 5. Moreover, they are serve different purposes. Different time of the day, different vibes, different blend. For example, I really like the Balance (Matcha + Ashwagandha) blend in the morning for a boost. Then other times, when I'm looking to restore, recenter, recover, I lookto a blend like Calm (Turmeric + Ginger).
You're reading: Tusol Wellness Review + Coupon Code.
The Tusol Feeling
Perhaps the coolest part of using Tusol Wellness's superfood blends is that I can noticeably feel a difference. Too, I notice improvements in my mood, energy levels, athletic performance and sleep. I also can tell that the overall quality of how my days feels good. There are no side effects for me or anything less than awesome health perks.
Also, I'm an active practicer of Crossfit + yoga. Thus, I love the plant based protein in these blends that can help me recover. This good, clean fuel really is a secret weapon for recovery in so many ways.
I'm not chasing weight loss, so I can't speak to that goal. But, I do know the perks of getting more nutrient dense superfoods in your diet. Your body will be more proficient at detoxifying. In addition, heavy metals and toxins store themselves in fat tissue. Moreover, this is helpful to understand if you are wanting to lose some excess adipose tissue (fat).
The Taste
Tusol does a great job of formulating their ingredients. They do this in a way that the superfood flavor does not overpower the whole experience. Some of them are more intense than others. After all, these are no-joke, deeply nourishing foods.
You can definitely taste the superfoods in each one. For example, the turmeric in the Calm blend and the wheatgrass in the Balance blend. But, especially when prepared as a smoothie, they are really good. Too, they are intended to be the foundation of a smoothie. On top of that, you feel great about all the goodness that you're ingesting.
A Few Words on Detoxing
I will say that if your current diet isn't healthy, you may have more detoxing to do than you expect. By healthy, I mean full with fruits, veggies and whole foods. I have quite a bit of experience with detox. In explanation, I was an organic + cold pressed juice shop manager for a few years. Moreover, my workdays revolved around facilitating juice detoxes & fasts. You may feel the need to go to the bathroom more, etc. BUT, it's important to note that this is a healthy process. It is your body eliminating what it needs to. You are giving your body the tools to cleanse and purify with superfoods. With the right phytonutrients, it's now able to do so. Just something to keep in mind!
Tusol Wellness Recipes
Tusol provides so many suggested pairings/recipes! It will give you so lots of ideas for putting these smoothies together. They don't disappoint. They know what they are talking about with the flavor combinations!
Thank you for stopping by my Tusol Wellness Review!
Be sure to use the Tusol Wellness coupon code FEELMOREGOODER for 20% off your box of Tusol Wellness Smoothie Packets!
When you give them a try, be sure to stop by and let me know about your experience!
Maybe you landed here because you were searching the web for "Tusol Reviews" or "Tusol Wellness" or "Tusol Review" or "Tusol Wellness Reviews" or "Tusol" or "Tusol Smoothie Reviews". No matter what you're typing into your search engine, I'm glad you're here. Tusol Wellness is a conscious, quality brand and I'm stoked you're in the market for some of their superfood blends. I hope you found this post to be helpful!