This is my Naturepedic Organic Mattress Review, which was generously gifted to us. In this blog post, I share my experience and candid thoughts with the EOS Classic Organic Mattress. All thoughts and opinions are my own. Use code SWEETDREAMS for FREE ground shipping!
Maybe you landed here because you were searching the web for "Naturepedic Mattress Reviews" or "Naturepedic EOS Organic Mattress" or "Naturepedic Reviews" or "Naturepedic Mattress Review." No matter what you're typing into your search engine. I'm glad you're here. Our Naturepedic Mattress has improved our sleep quality a whole lot & I'm stoked that you're in the market for one. Now, let's dive into my Naturepedic Organic Mattress Review!
Our First Organic Mattress
We were excited to be gifted a king-size mattress from Naturepedic is one gigantic understatement! We were so thrilled to have the chance to try out this mattress. Since we started initially researching this brand, we have been so impressed by the materials. Now, we are experiencing how good it feels (and it's only been a few weeks).
(exerpt directly from the Naturepedic website)
When it comes to your health and a good night's sleep, there's just no room for compromise. Naturepedic was founded by passionate sleepers who wanted the absolute safest and healthiest mattress without having to sacrifice comfort or support. Naturepedic also recognizes that no two sleepers are exactly alike, and believes strongly in customizable mattress design. Years of research and testing have gone into the development and refinement of our products and we are happy to share our learnings with you.
There is growing concern among physicians, health professionals, public safety officials, environmental advocacy groups, and consumers regarding the possible effects of chemicals on our bodies. Many researchers suspect that toxic chemicals are playing a significant role in the dramatic increase in cancers and other illnesses, placing an impossible burden on our immune systems. Your bedroom, and mattress in particular, should be a safe haven for rejuvenation, not another source of chemicals.
Adults typically spend 6-9 hours a day sleeping and relaxing on their mattress. Since the mattress is in such close proximity to our bodies and the air we breathe for such a prolonged period of time, it can easily become a significant source of chemical exposure. In fact, every breath while sleeping is no more than six inches away from these chemicals. Conventional mattresses are notorious for releasing chemicals like VOCs and aldehydes, making an organic mattress a smart choice.
Remove chemicals such as flame retardants, adhesives, vinyl, polyurethane foam, per fluorinated compounds and other questionable chemicals from the products we surround ourselves with and replace them with more natural non-toxic ingredients that don't carry the same risk.
At Naturepedic, we believe that education is the key to making the right decisions for your health. Naturepedic has become the standard for healthier organic mattresses and offers a much needed solution to the chemical and safety issues, as well as the quality and comfort concerns, of today's discerning consumers.
I was fascinated to learn more about the engineering of this mattress, how many layers it is comprised of, and how Naturepedic chooses the highest quality materials to construct it.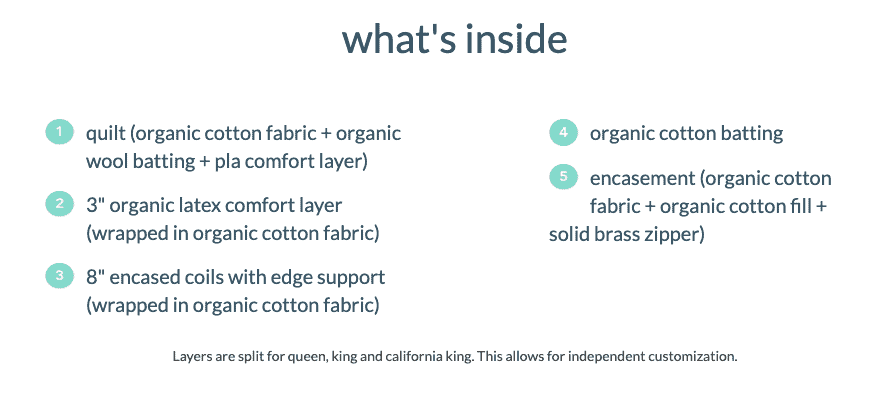 Check out these materials! Sleeping on a mattress made of organic materials helps limit your exposure to toxic chemicals, as many mattresses can contain toxic chemicals that are included in the manufacturing process. We are new to this (this is our first mattress of this kind) but so happy to have this peace of mind now.
A few additional points about EOS Classic Organic Mattress, from the founder himself, Barry Cik:
Certified organic to the GOTS standard (the whole mattress, not just components)
Virtually entirely free of petroleum based materials
Not highly flammable, and easily meets the government flammability requirements without needing flame retardant chemicals or flame barriers.
The "best" part: no matter how organic and non-toxic a mattress is, that's not enough. It must be as, or more, comfortable as any other mattress. And, frequently, I'll tell people that even if you don't care about chemicals, etc., this is the best mattress simply because it's the most comfortable. Why? Because we add a zipper, you can flip up the top, you can have soft or medium or firm latex, and you can have plusher or firmer encased coils.
So, you can sleep on Jello if that's what you want, or concrete if that's what you want, or anything in-between.
Then, it gets better – why do you have to put up with your partners preferred firmness, and why does your partner have to put up with your preferred firmness? The EOS Classic lets each partner design what firmness they want.
You can even swap components for free for 90 days and just pay the shipping. Years later, if you want a different firmness, you can simply buy a new component without having to throw out the entire mattress. Because of this, this model is the most sustainable design.
To start off, I just feel immensely grateful that Luke and I get to sleep on this every night. It's been our dream for a while now to upgrade to a king-size bed. The fact that our upgrade mattress contains consciously-chosen organic materials and handcrafted to perfection–well, it's something that we never could have imagined would be a reality.
Our delivery from Naturepedic came with:
-1 king-size bed frame
-2 twin-sized mattresses (that you combine in the layered, zip-up case that creates the kind-size bed)
-2 twin sized box springs (they work similarly to the mattresses as far as placing them next to each other to achieve the king-size proportions)
*This affords you the ability to choose two different firmnesses for each respective side of the bed. This way, you and your partner have a customized bed that best suits you. Also worth mentioning, after construction of the bed layers, you cannot tell (at all) that there are two twin-sized components.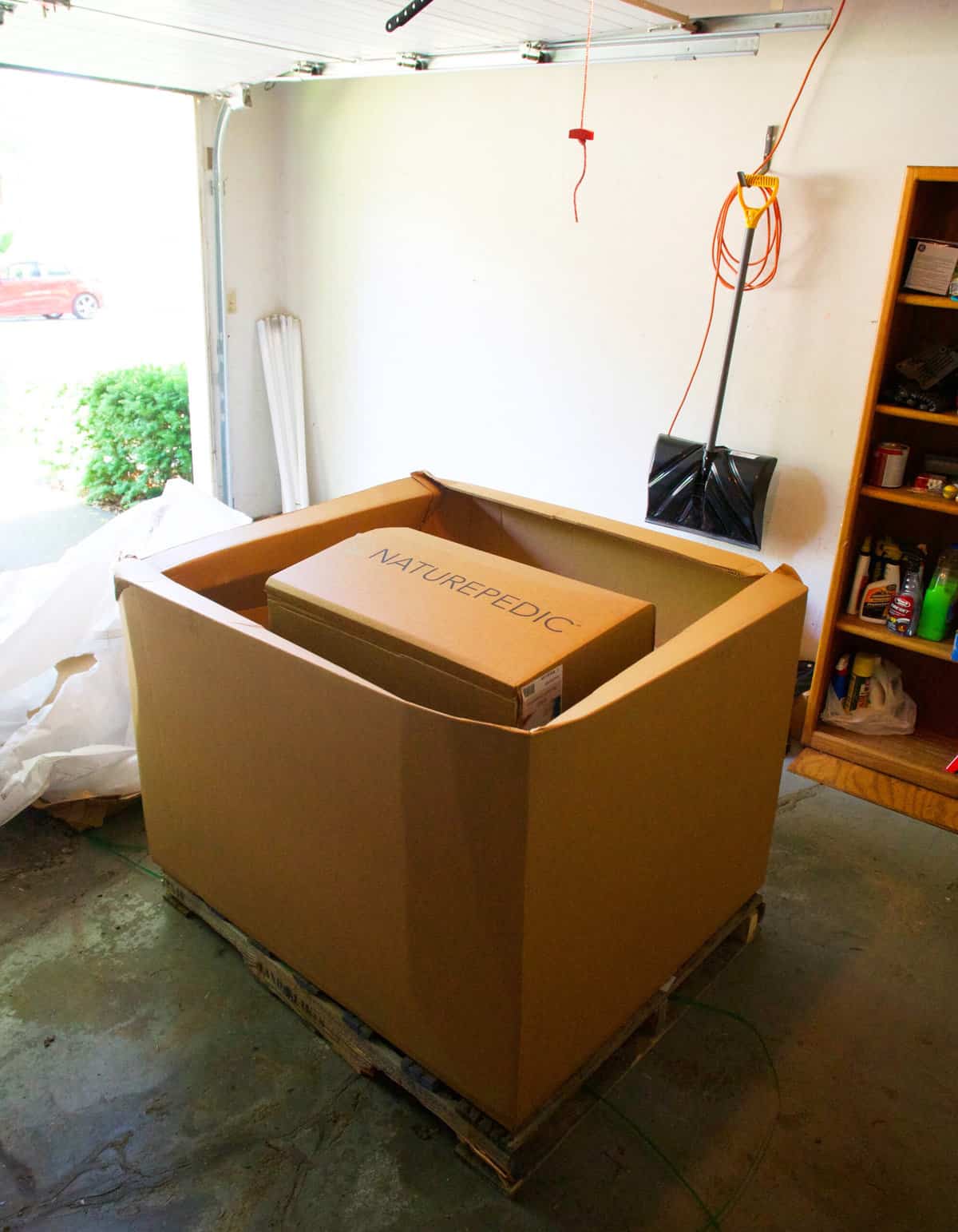 The total time that it took us to assemble our mattress (including unpacking each piece) was about 1.5 hours. It didn't feel like it took that long, but we did take our time and read through the directions at our own pace. That time also includes setting up the bed frame.
My husband, Luke, did the majority of the leg work and I wouldn't have wanted to do it without his help, as moving heavy objects and using a wrench was way less intimidating with him helping.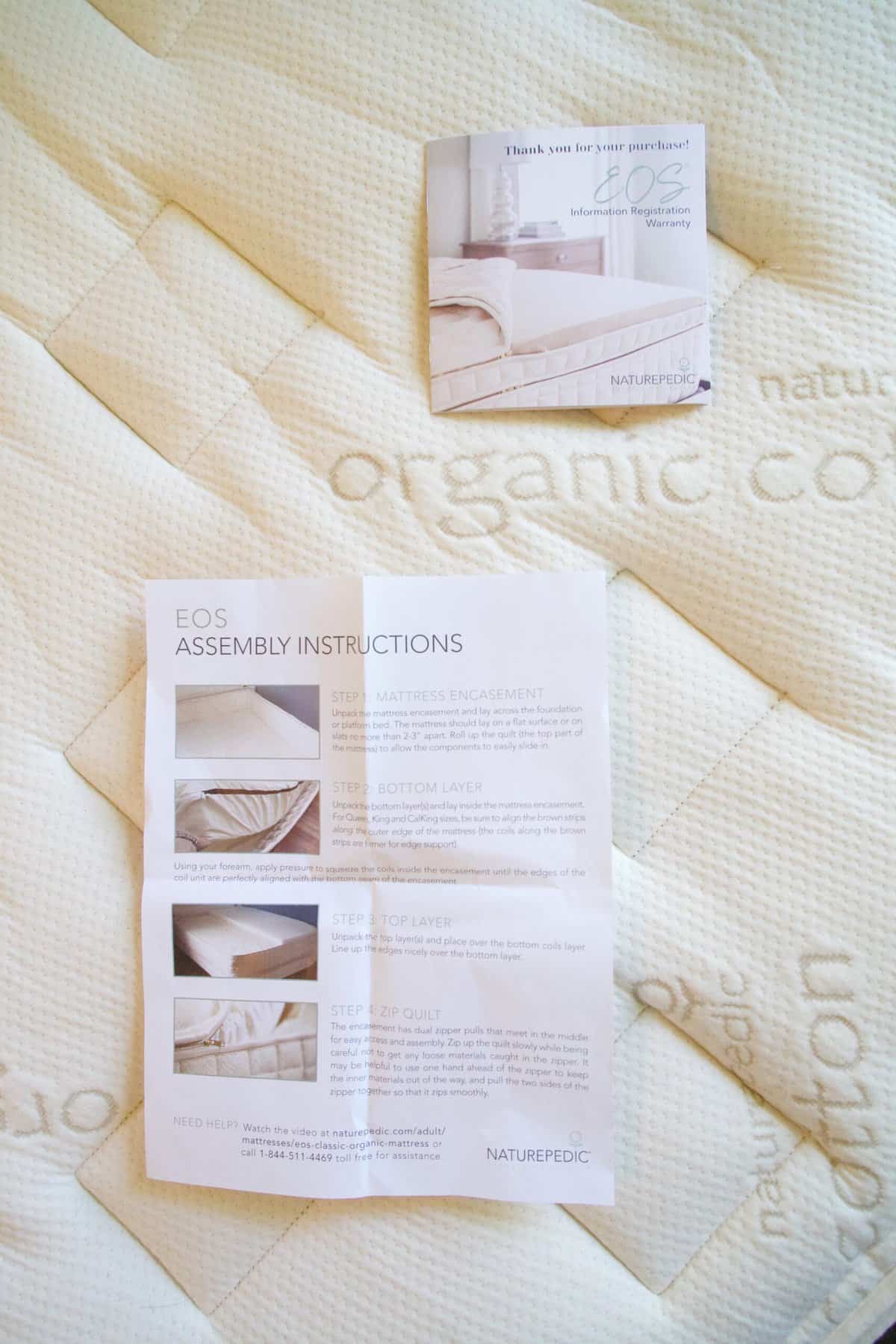 The instructions + product information came handy in the package and were easy to understand & implement.
The cozy, fluffy layer lays on top of the coils inside of the outer casing that zips up all the way around. This structure allows you to explains implements if you ever want a different padding firmness, etc.
Like all of the materials in this mattress, the cotton used is organic.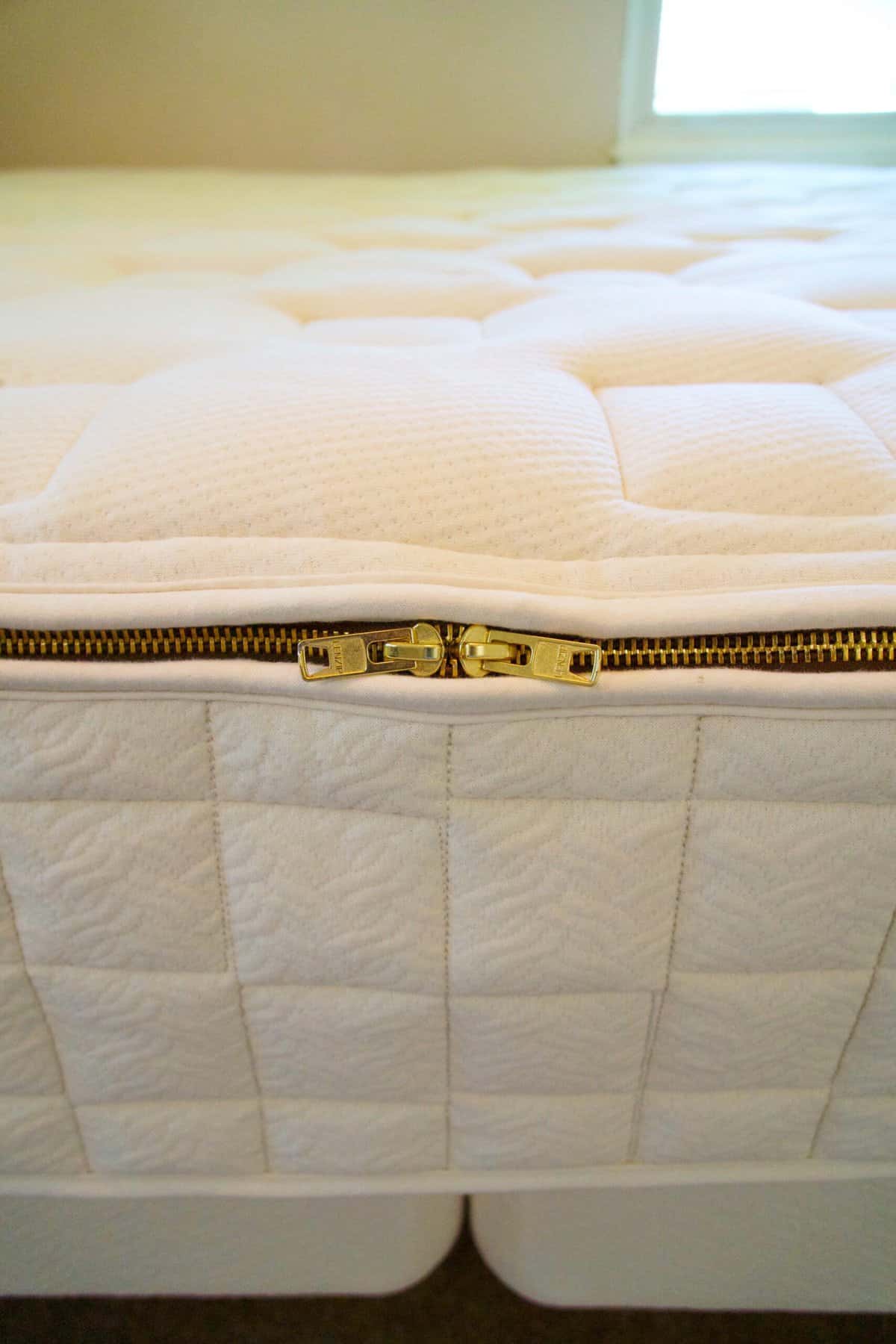 The final, assembled mattress is beautiful. We were so excited to sleep in for the very first night! (and every night after)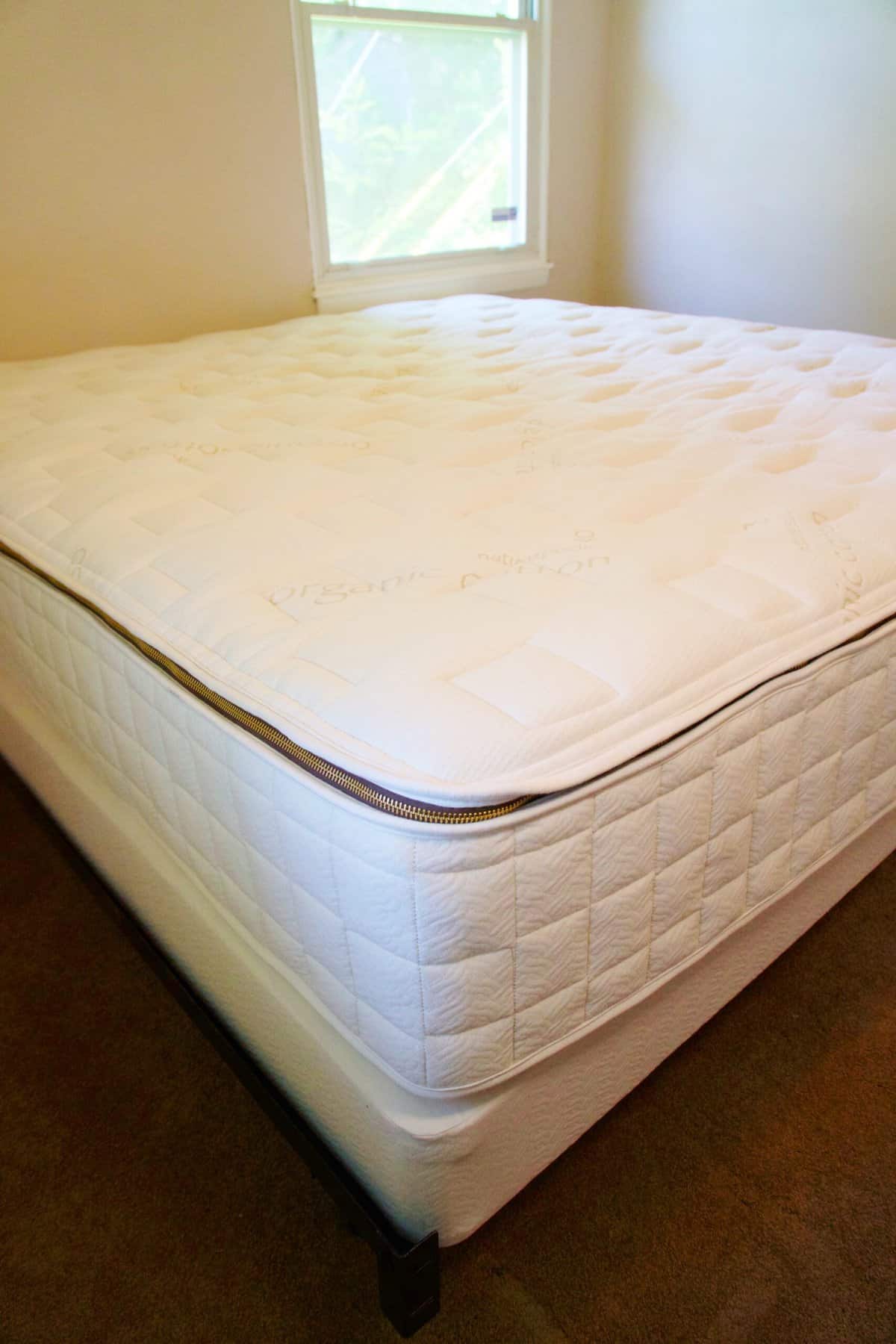 Laying down on this mattress for the first time reminds me of sinking into a meditation or getting bodywork done. I immediately felt the tightness in my body release and all noticeable stiffness throughout my body dissipate.
It feels like laying on a supported cloud. The support is the perfect firmness for my preference. We opted to get a firmness of 6 on both sides of our bed. This firmness was offered up to us as a suggestion, since many high-end hotel beds are around this firmness. It was the right choice; we both love the feel of it.
Size-wise, we have always dreamt of a king-size bed as Luke and I are both 5'9″ and I am a sprawl-out type of sleeper. So, the more room, the better! Not to mention that our black labrador, Kona, loves to join us in bed. We now have space to comfortably lay with all 3 of us having plenty of room.
I can confidently say that Luke and I have both experienced much deeper sleep than usual since sleeping on the Naturepedic EOS Classic Organic Mattress. On multiple mornings, we have both woken up, looked at each other, and laughed because we knew how deep of a sleep we just had. There are few better feelings than that!
In regards to the organic, mindfully-sourced materials that this mattress is made of, my fiancee and I still feel like we are learning in regards to the importance of sleep hygiene and all of the variables that we can control. Of course there are small adjustments you can make, like wearing a sleep mask or putting up black-out blinds.
But, what deserves the most attention is what your body is in contact with your every minute of every hour that you are sleeping. If you think about how many hours of your life you are horizontal on your bed, it adds up quickly. It also makes sense that the materials would matter.
For instance, many mattresses are known to contain toxic chemicals and flame retardants that you are essentially surrounded by when you sleep on those mattresses. It makes sense to us that over time, breathing them in can't be a good thing. It's something that we have ignored for many years, but it's something we are more aware of now, and really loving that I can help spread knowledge surrounding that.
A special thank you to Leah at Bookieboo for introducing me to such a stellar organic brand and Barry at Naturepedic for his generosity in gifting us such a beautiful product.
Thank you for stopping by this post: Naturepedic Organic Mattress Review.
Maybe you landed here because you were searching the web for "Naturepedic Mattress Reviews" or "Naturepedic EOS Organic Mattress" or "Naturepedic Reviews" or "Naturepedic Mattress Review." No matter what you're typing into your search engine. I'm glad you're here. Our Naturepedic Mattress has improved our sleep quality a whole lot & I'm stoked that you made it to the end of this post.